Home

From all of us to all of you...
Merry Christmas and Happy New Year!
We wish you all the best of the season and thank you for the continued support!
We hope you have a wonderful Christmas and New Year filled with Joy, Peace, and Abundance!
Our office will be closed from December 23rn, 2022 Until 9:00a.m January 3rd, 2023.
In case of an emergency, please contact Michael at 780-999-0739.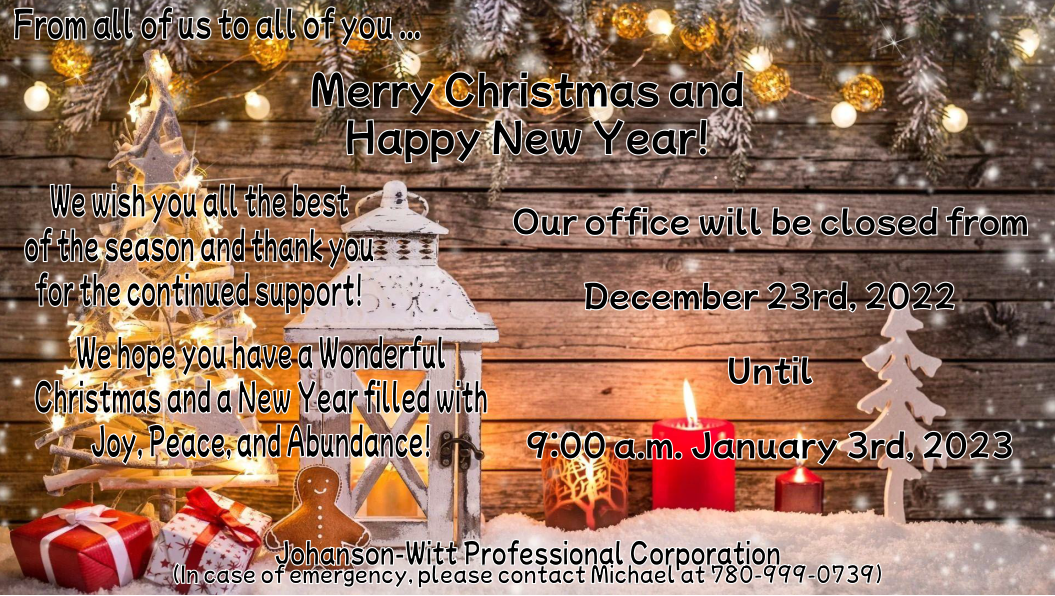 ---
Johanson-Witt Professional Corporation is a family-owned and operated business in Edmonton that has been providing financial accounting, tax preparation (corporate and personal), and bookkeeping services in Canada for over 40 years!
We have a proud tradition of personalizing our service to meet the specific needs of our small to large clients which has resulted in lasting business relationships - in some cases, the clients today are the same ones as 40 years ago!
We have designed this website to do more than just communicating about our firm but to also be a resource for our clients and potential clients to access information on reporting, new legislation, and useful financial tools. We value suggestions so if at anytime you feel the website could use a new feature let us know!
We invite you to book an appointment and, as a policy, all new or prospective clients can get 1 hour free consultation. 
We look forward to seeing you soon!
---
780-454-3883 

(Call to book your initial free consultation now)
Please Note: We are currently accepting new clients - so give us a call today!
---